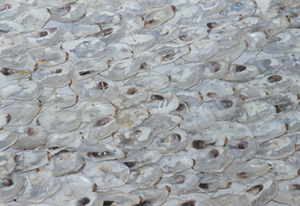 In their natural habitat mature male and female nori fronds release male and female cells in the spring. They combine to produce boring spores which dig themselves into mollusc shells, where they grow through the summer months. In commercial manufacture, this process is conducted in large scale facilities where changes in water temperature and light intensity are carefully controlled.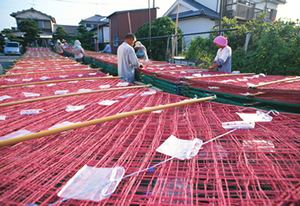 Between mid-September and early October the borers release conchospores. Special cultivation nets wrapped around large drums are rolled in the pools of water like water wheels. The spores catch onto the nets and proceed to take root.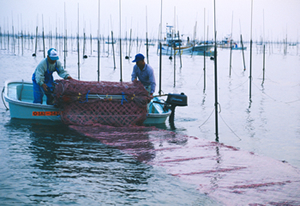 The growing of seedlings is conducted on nets (either affixed to poles or floating) in the sea. It is a nerve wracking time for farmers as the weather can be very unpredictable. The nets are washed with sea water both to ensure proper growth and so that only the healthiest nori makes it through to harvest.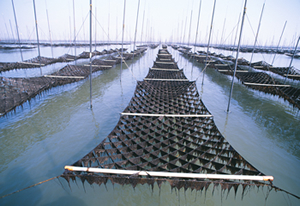 Initially nets are stacked between 25 and 30 layers deep. However, as the nori grows, the number of nets in each stack is gradually reduced. Eventually single nets cover huge areas. At this time, when seedlings are 2-3 cm in length, some of the nets are put into cold storage to be used for a second "crop".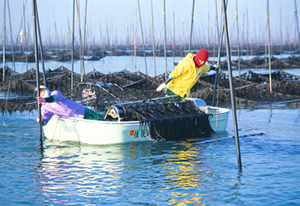 Harvesting, using mechanical harvesters, begins when the nori fronds have grown to about 20 cm in length around 50 days after seeding, usually sometime between late October and early December. Each crop can be harvested about 4 times at approximate 2 week intervals. The nets are then switched for those previously frozen, extending the season further.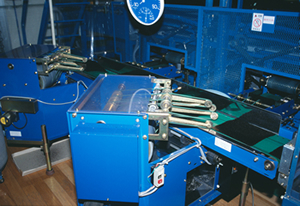 The processing of nori was once arduous and labor intensive. Today, however, highly automated machines accurately duplicate the traditional manual steps of processing raw nori, but with much improved efficiency and consistency. After the harvested nori is washed in fresh water and has any foreign particles removed, it is minced and passed onto a machine that presses the nori into flat sheets. This process removes most of the moisture and dries it. The finished product is finally checked for quality and is then packaged in bundles of 3600 sheets ready to be shipped to market.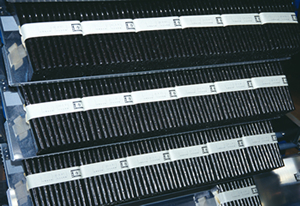 Nori is, of course, best known as a wrap for sushi and "onigiri" riceballs, but it is also a common garnish or flavoring in noodle dishes and soups. A popular secondary product is toasted and flavored nori, or "ajitsuke-nori" which has flavoring mixture is applied at the time of the toasting process, and which is eaten as a snack.